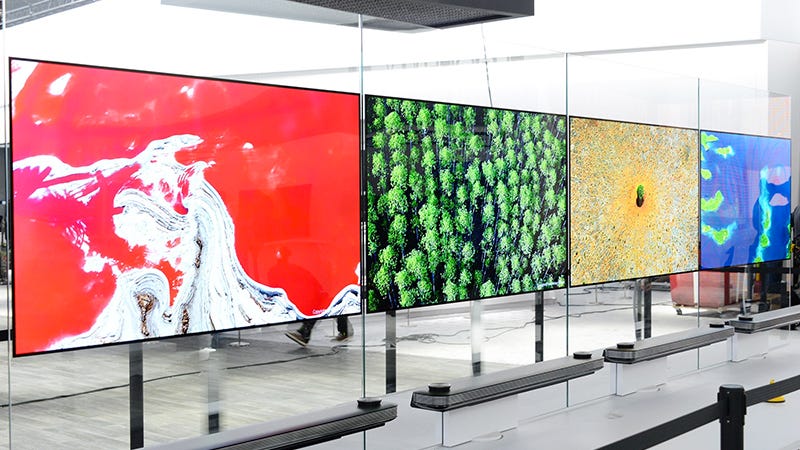 In the market for a brand new, shiny, smart TV? The good news is that there's more excellent choices out there than ever; the bad news is that working your way through all the options can take up precious time you could be spending binge-watching Westworld. Let us ease your purchasing headaches and point out what to look for.
We should warn you at the outset that prices and available models fluctuate wildly, even week to week—with new TVs hitting the market regularly and older ones sticking around for a long while, taking a look on a site like Amazon can be a bewildering experience.
The TV makers don't help, with bizarre-sounding model numbers that don't tell you much about the technology included, long lists of specifications without any apparent relevance, and multiple versions of the same set that vary between stores and countries. The best way to start is not by browsing the TVs on sale right now, but by thinking about what you want from your next set.
Choose your size and resolution
First of all, how big do you want this set to be? You need to think about the size of your room and the space for the TV, but also how far away you're going to be sitting—splurging on a 70-inch set that you're going to sit four feet away from just isn't worth it, nor is dropping thousands on a 4K set you'll be sitting fifteen feet away from (4K loses many of its benefits at distances further than ten feet).
We're seeing a new measurement make its mark too: thinness. If you notice a high markup on a modern set then its thinness might be one reason why, but you only really need to go ultra-thin if you're planning to wall mount your set, otherwise a bit of heft in the depth department can add some handy extra stability.
The "best" size for you depends on your own tastes and situation, but mocking up a cardboard frame for the sort of dimensions you're considering is one way of gauging just how much of your living room your next set is going to dominate. Bigger is usually better, but within reason, and you'll have a budget to think about too.
As for resolutions, 4K (or Ultra HD) is pretty much a no-brainer at this point, though if you're going for a smaller size (say around 40 inches or less) then you can save yourself some money by going for an older HD-only model—that 4K res won't really be noticeable on smaller screens anyway.
Speaking of differences you can actually notice, 8K is on the horizon, but it's debatable whether living room TVs will ever get big enough for 8K to be worth it, and the tech is still some way off at the moment—you certainly shouldn't hold back on a 4K purchase because you think it's going to be made obsolete anytime soon.
Meanwhile 4K content is slowly but surely making its way out there, and the trend is only going to accelerate in the future, so it's worth future-proofing your purchase unless you really are trying to save the pennies.
Have a think about how many inputs you need as well—you want all of your consoles, Apple TVs, cable boxes, and Chromecasts to have room to fit. Checking the HDMI spec is important too (it's usually found in the manual for the TV), because HDMI 1.4 is limited to 4K at 30 frames-per-second, and you need HDMI 2.0 or higher for 60fps 4K, and HDMI 2.0a or later for full HDR support.
Most new TVs will support the newest standards, but it's something to look out for if you're going for an older box and want to plug 4K sources into it.
Choose your screen technology
There's a basic choice here between OLED and LED (which, strictly speaking, is actually an LCD lit by LED), but on top of that choice you're going to come across a host of acronyms and terms the TV makers have dreamt up to identify their own proprietary technologies and display tweaks.
Like pretty much everything else in the TV industry, the OLED vs LED battle is developing all the time. The truth is that both types of tech can give you a brilliant-looking picture, and to some extent it doesn't really matter which one you opt for, as long as you've got a display that meets your expectations and is good value for what you paid.
If you do want to know the differences though, OLED typically offers deeper blacks, better contrast, and a superior overall picture, but it's also usually a lot more expensive. Saying OLED is broadly better than LCD is not the same as saying every OLED set is a better value buy than every LCD one—you still need to look closely at specs, performance, and reviews, as well as that all-important price.
HDR (High Dynamic Range) is perhaps the must-have tech, alongside 4K, in your next set—it offers an improved range of colors and brightness, plus better calibrated contrast, and makes pretty much any picture better. It's not just as easy as picking a set with HDR though, because there are competing standards to consider: HDR10, which is a very basic version found in HDR content from Netflix and Amazon, Dolby Vision, developed by Dolby and "future-proof", and Hybrid-Log Gamma, a brand new standard created in tandem by the BBC and NHK and intended for broadcast use.